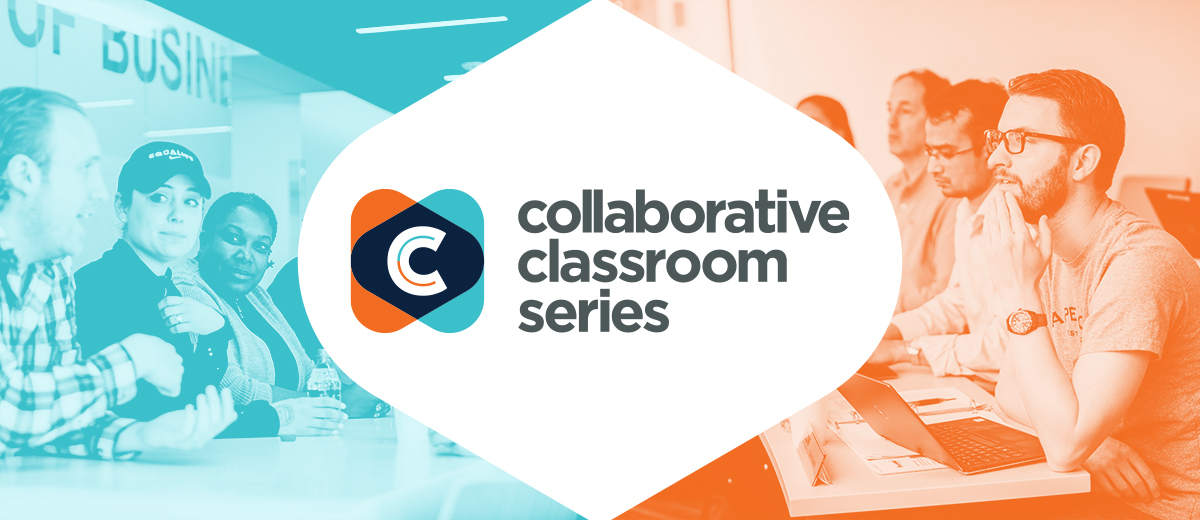 Collaborative Classroom Series
Connect with the School of Business' most dynamic faculty in a series of free, interactive mini-courses.
The Collaborative Classroom Series is featuring five free mini-courses for Spring 2021. These one-hour online events allow you an opportunity to learn more about relevant business topics while experiencing first-hand the expertise and energy that UConn business professors bring to their courses.
Who Should Attend: This series is designed for prospective graduate students, but anyone is welcome to join.
Free 1-hour Online Courses
Wednesday, March 31, 2021 6:00 - 7:00 p.m. (ET)
Robert Bird, Professor, Business Law, Eversource Energy Chair in Business Ethics
​​​​Most of us want to be ethical in the workplace, but are vulnerable to our own biases on how we interpret and process information. This session highlights some of the most common biases people have that inadvertently cause us to act unethically even if we are well-intentioned. This session will also offer strategies to minimize the risk of unethical behavior in the work environment.
Tuesday, April 13, 2021 6:00 - 7:00 p.m. (ET)
Dave Wanik, Assistant Professor in-Residence, Operations and Information Management
Machine learning models are masters of pattern-based learning - go find the data that you think matters and let the computer tell you if you can predict the answer! Imagine we are trying to predict house prices in Connecticut. We would want to show the computer a bunch of detailed data (number of bedrooms, age of house, school district quality), along with the thing you are trying to predict (the house price), and let the computer learn the patterns for how to relate the input data to the output. Once the model is trained, you can apply it widely across Connecticut and predict how much a house would sell for before it does. In this workshop, we will show you how to use Python to download datasets, make beautiful visualizations, fit a machine learning model, and show which variables were the most important for making an accurate prediction.
Monday, April 26, 2021 6:00 - 7:00 p.m. (ET)
Trevor Tomko, Adjunct Professor, Operations and Information Management
People routinely engage in decisions, from the mundane to the life-changing, such as: Should I buy apples at the grocery store? Where should I go to college? Whether they know it or not, how they arrive at their decisions is rooted in the principles of risk management, which have been evolved throughout history. Risk management is humanity's way of combining objective and subjective information in an attempt to make predictions about the future. Sometimes it works in our favor, and sometimes it does not. One of the earliest advances in risk management came during an outbreak of a deadly disease, and much like the pandemic in our own time, continued to both challenge people and advance our understanding of risk and uncertainty.
Wednesday, May 12, 2021 6:00 - 7:00 p.m. (ET)
David Rubin, Adjunct Professor, Finance
Learn why borrowing at 2% and investing at higher rates doesn't always work out, even if there is no credit risk or asset pricing (value risk) for your investment. This specific discussion and "tool-kit" will cut across several topics that Finance courses at UConn work with: Financial Modelling, Exchange Rates, Interest Rates and the Futures Market. It will also provide a glimpse of how we can use "markets" to infer and predict future values, rates, and risks.
Monday, May 24, 2021 6:00 - 7:00 p.m. (ET)
David Bergman, Associate Professor, Operations and Information Management
Business decision making is increasingly reliant on automation, and at the core of automation is the field of optimization. This session will introduce how optimization is transforming the way that business is done, its relation to other data science disciplines, and its use in daily fantasy sports.
Video recording coming soon.
Who Should Attend?
This series is designed for prospective graduate students, but anyone is welcome to join.
How Much Does It Cost?
The Collaborative Classroom Series is FREE - join us!
Who Should I Contact With Questions?
If you have any questions, or if you require an accommodation to attend one of these events, contact Alyssa Suhr, alyssa.suhr@uconn.edu