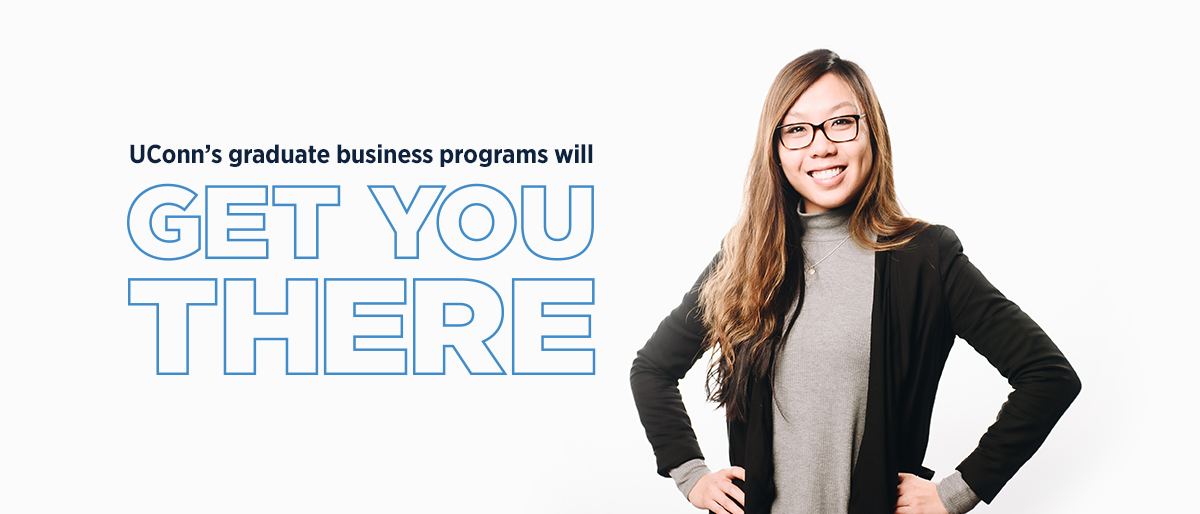 Advanced study fosters new ideas, the discovery of new knowledge, and the development of solutions to the greatest challenges facing business and society.
UConn's graduate business programs offer you all of the skills and intelligence you need to distinguish yourself, allowing you to be more competitive, innovative, and successful, in life as well as in your career.
Accounting
Driven by Growth. Powered by Experience.
UConn's online Master of Science Program in Accounting (MSA) is one of the most acclaimed accounting programs in the Northeast and the first online Master's program at UConn.
Business Analytics & Project Management
Data Runs The World. You Run The Projects.
Big data, big projects, run by you! Ranked #8 in the U.S., UConn's MS in Business Analytics and Project Management (MSBAPM) gives you the edge in analytics and project management.
Financial Risk Management
Maximize Opportunity. Minimize Risk.
The Master of Science in Financial Risk Management (MSFRM) is designed for business professionals who want to enhance their careers by fully understanding how to identify and manage various types of financial risk.
Human Resource Management
Workplace Culture: Powered by People. Inspired by You.
UConn's MS in Human Resource Management is a 33-credit, non-thesis part-time master's degree offered in a unique blend of on-campus and online learning.
Financial Technology (FinTech)
FinTech Is The Future of How We Do Business. Master It.
UConn's MS in FinTech empowers you to harness advanced business analytics, technology solutions and financial services skills to innovate and create tomorrow's business solutions today.
Full-Time MBA
Take The Fast-Track To Leadership.
The fast-track to leadership: Immerse yourself, face-to-face with faculty and peers, to earn your degree in just 21 months.
Part-Time MBA
Elevate Your Career. Transform Your Life. Set Your Own Pace.
Elevate your career, transform your life, and set your own pace with a top-ranked MBA for career-driven professionals.
Executive MBA
Where High Performance Managers Become High Impact Leaders.
An MBA designed for those with the C-Suite in mind, where high performance managers become high impact leaders.
Online MBA
Leadership Mastery: Now At Your Fingertips.
Leadership mastery is now at your fingertips. Join an elite community of students, practitioners, and faculty.
Accounting Analytics
With this innovative online certificate, students will develop a skillset which enables them to operate with an analytics mindset throughout all accounting fields including audit, tax, financial reporting, forensics and consulting.
Accounting Fundamentals
This online certificate combines the material from five undergraduate accounting courses into a four course graduate sequence.
Business Analytics
This graduate-level certificate is designed for business managers and information professionals who are interested in the role of business analytics in organizations and how data analytics can be applied to help make better business decisions.
Certificate in Corporate and Regulatory Compliance
This graduate-level online certificate is designed for business professionals who are interested in careers in compliance, ethics, internal monitoring, regulatory affairs, and related areas.
Digital Marketing Strategy
This certificate is for business professionals who are interested in careers in the areas of digital marketing and analytics, big data and strategic marketing, marketing research, customer relationship management, and targeted database marketing.
Health Care Analytics
Healthcare analytics is the systematic use of data to drive evidenced-based decision making in clinical and business settings. It involves the application of statistical tools and modeling techniques to healthcare-related data as a way of improving the quality and efficiency of clinical and business operations and outcomes.
Health Care Finance and Insurance
This graduate-level certificate is designed for business professionals who are interested in careers in the area of health care economics, finance and insurance.
Human Resource Management
The Advanced Business Certificate in Human Resource Management is an option for graduate business students seeking a concentration in human resources and for current professionals looking for a focused study in human resources.
Long-Term Health Care Management
The Certificate Program in Long-Term Healthcare Management is designed to meet all State of Connecticut requirements for long-term healthcare administration licensure. It is offered by the School of Business and is approved by the State Department of Public Health.
Project Management
This graduate-level certificate is designed for business professionals who wish to enhance their project management skills.